CIPP/US exam annual update (September 1, 2021)
More emphasis on State Privacy Laws..
Every year the CIPP/US exam undergoes a minor update. This year the changes will take effect from September 1st. In this blog post, we will discuss the update and all you need to need to pass the updated CIPP/US exam.
Please note: the CIPP/E exam was updated earlier this year. Do you want to know all about that?
Then read this blog post: https://cipptraining.com/cipp-e-exam-annual-update-july-1-2021/

CIPP/US Exam
The CIPP/US still consists of 90 multiple choice questions. It also still consists of the same five parts.
What changes is the weighting of these five parts. The number of average questions per part changes as follows:
 
Average number of questions per part:
I. Introduction to the U.S. Privacy Environment
31
31
II. Limits on Private-sector Collection and Use of Data
22
20
III. Government and Court Access to Private-sector Information
7
5
IV. Workplace Privacy
10
7
V. State Privacy Laws
6
12
What is striking is that the weighting of State Privacy Law in the exam doubles. It is not surprising when you see that in the US all privacy developments mainly take place at the state level.
The first 2 parts (U.S. Privacy Environment and Limits on Private-Sector Collection and Use of Data) still weigh the heaviest, but the State Privacy Law part now weighs the most heavily after parts 1 and 2.
The section now covers the following topics.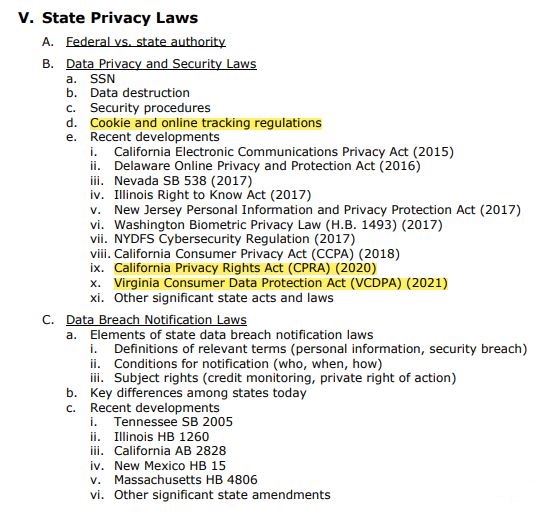 The September 1 update adds the following topics:
Cookie and online tracking regulations,
California Privacy Rights Act (CPRA) and
Virginia Consumer Data Protection Act (VCDPA).
These recent topics have not yet been incorporated into the official textbook.
CIPP/US Update – other new exam topics

According to the IAPP, the 2021 update includes the following additional topics:
Third-party data sharing as part of vendor management
Data Ethics
Amendments Act: Section 702
Conclusion
The update of the CIPP/US exam is characterized by the more important role of State Privacy Law. There is little to be found about this in the official textbook. It therefore seems necessary to continue to follow the news and developments on the IAPP website. Or… you can enroll in our CIPP/US course.
CIPP/US (or CIPP/E – CIPM) exam prep

We offer a great CIPP/US exam prep course including an up to date and detailed outline of the entire textbook (latest edition), our State Data Privacy and Security Laws Appendix, IAPP style practice questions and various training videos. This combination ensures optimum preparation for the exam and a high chance of excelling at your first try. Register here.
CIPP/US Sample Exam Questions

In this blog post, you can find and download CIPP/US sample questions for free:
CIPP/US Practice Questions (Sample Questions)